Two and a half months ago, we arrived in Indonesia and started experimenting with two methods of restoring eelgrass. The first method was a set-up where we attached cuttings of seagrass with corroded nails and iron wire in the ground. In the second method, we attached cuttings using a bent-over bamboo. To make the study as reliable as possible, we also made a control set-up. The first few weeks went very well. The control group was washed away, but with the attachment technique, the cuttings stayed well, especially at the tacks.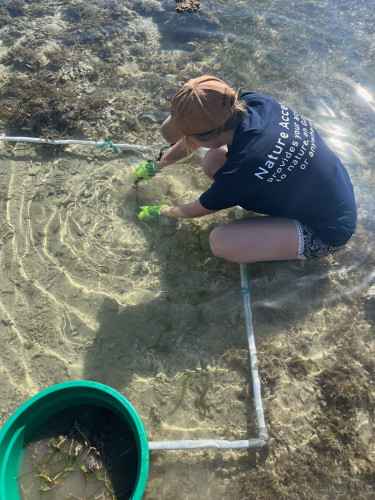 Unfortunately, there was a huge storm on Gili Air at the end of December. Not only was our setup devoured by the waves, but five-year-old coral restoration spots nearby were toppled and damaged. Streets were inundated and even boats fell victim to this storm.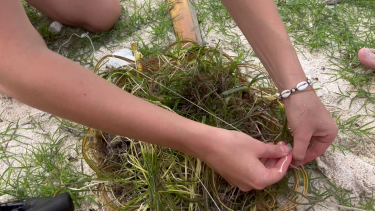 Despite this huge setback, we are not letting our guard down. So many people have shown faith in us. Not only everyone who donated to our crowdfunding and S4S, but also the local people we have a lot of contact with. So we went back to work hard to design a sturdier product! 

We chose, in consultation with experts, to place clumps of sea grass instead of loose cuttings. We expect this to adhere to the soil faster and be easier to place. We have now tested two ways; one with a basket that you fill with a clod and then put in the ground with a kind of large hook-shaped peg, and one without a basket with only the hook-shaped pegs. There are a few in there now and it seems to be holding up well.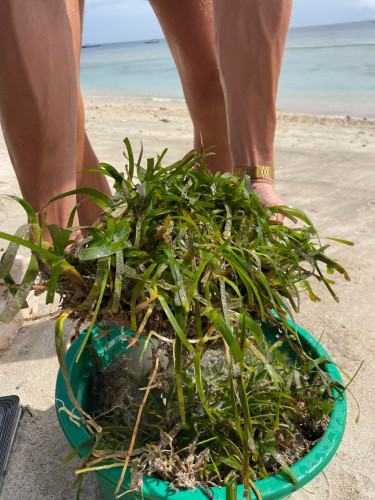 We are now monitoring the new prototypes and drawing up a plan for the continuation of the project. Gili Shark Conservation wants to continue our research and support eelgrass recovery in Gili Air. We are also setting up a sustainable business plan for Reefy!