Xtreme Architecture is an organized research team by 65 architecture master students from TU Delft. Our project takes place in Sint Maarten and Saba, areas that suffer from regular climatic disasters such as hurricanes and earthquakes. In 2017, more than 80% of the buildings on Sint Maarten were damaged by hurricane Irma. To respond, we wish to provide innovative building and design solutions for extreme climate conditions in areas where help is needed. We strive for strengthening communities and developing different ways to help with earthquake and hurricane resilience by working closely with a local developer.

A close collaboration with this local developer gives the research relevance to approach local parties as well. We are researching and designing affordable housing on Sint Maarten and a day-care center on Saba which are not only hurricane and earthquake resilient but also boundary pushing in terms of circularity and sustainability. These projects are aimed to be actually built, as the government of Saba specifically asked us to design for them.
In November, we took 25 students on a week-long research trip to Sint Maarten and Saba. The group visited the plots and conducted small-scale practical testing in the way of site analysis. These included: plot dimensions; prominent wind direction and soil types. The data will be taken back to the Netherlands to make the designs as specific as possible and also to have a circular and sustainable design created to this specific climate.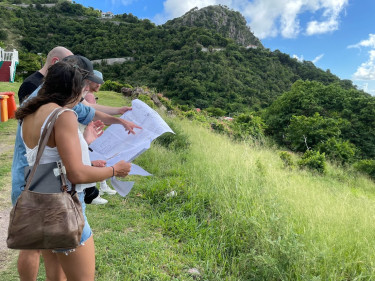 This field trip also allowed us to make contact with the locals and local parties related to the construction sector. We exchanged knowledge and ideas with local people and local government agencies. By engaging with these parties, we gained valuable information about their lifestyle and their lives in areas facing extreme climate conditions. Instead of coming up with innovative building solutions from the TU Delft we want to discover the opportunities of building together with the locals. One day was dedicated to volunteering, during this day we managed to renew the Volunteer Center and its garden that still has hurricane damage. Discussions with local contractors got us thinking to not only implement sustainability in our designs, but also explaining its importance and relevance for them.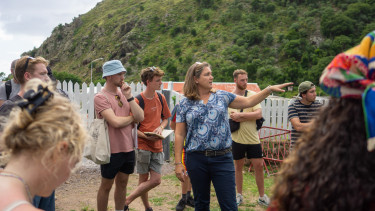 As a final result we finish the individual designs for small-scale affordable housing on Sint Maarten
and the design for a day-care centre on Saba. These designs are presented both architecturally and
technically. As a result we will create a book including interesting new designs that are both inspiring
and informative for hurricane and earthquake resilience building solutions in areas that face these
extreme climate conditions. This knowledge is shared with both Dutch and international parties
related to this sector. To prevent future disasters, our building solutions are of Xtreme importance!

Hein van der Helm, on behalf of Xtreme Architecture