Over the past few weeks, we have been busy building the hydroponic systems. We have created a final design for three systems. One system with a water pump, one with an air pump and one without a pump. Together with the students, we went to local shops to get all the materials. Everything we needed was also available locally. We also used old plastic oil drums and plastic bottles. Right after that, we started building!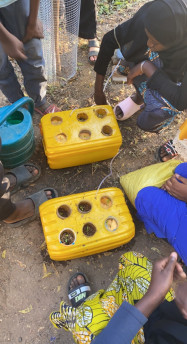 However, we still had to investigate the availability of pumps and nutrients. After all, we had brought these ourselves from the Netherlands. We had been told that these were not available inland anyway, so we had to look in the coastal area. Therefore, when the students had exams, we went to the coast for a week to look and ask around. We visited several shops and two gardens applying hydroponics in The Gambia. The first garden was European-scale and had imported everything from Europe, which is not up our project's alley. The other garden, MyFarm, is a charity that focuses on micro gardening and also does hydroponics on a small scale. They import nutrients from Dakar (Senegal) because they are not available in The Gambia and offered that we could buy nutrients from them for our project.
As for the pumps, after asking around a lot and visiting the biggest cities and their wholesalers, we were able to conclude that these are unfortunately not available in The Gambia either. There is a chance that we can also find them in Dakar but that is too far for us to travel to. For the time ahead, this will not affect our project as we had brought pumps and nutrients ourselves. However, this does raise the question of what the progress of hydroponics will look like. We asked the manager of MyFarm if he sees potential in setting up a hydroponics shop. He has lived here for more than 10 years and certainly sees a lucrative market in it!
Upon returning home, waterproofing proved very difficult. It also turned out that our seedlings had died due to a hot spell and insect infestations. In the end, we were able to waterproof two systems and buy seedlings. We were able to repot lettuce and cabbage in two systems.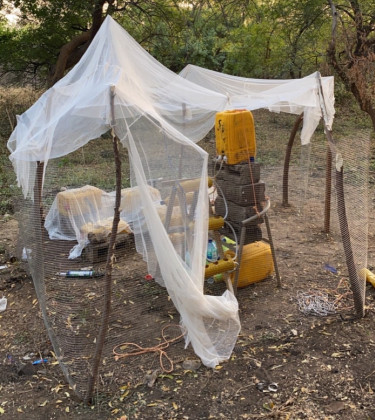 Finally, we had a meeting with the manager of the Agriculture Centre (Aziz) in Kuntaur. Here, local women from community gardens can ask questions and get help. Aziz also sees a future in hydroponics and is willing to continue it after we leave. If it works, he would like to set up a shop selling the supplies.