During the first days of my stay in Argentina I started working with ReUSAR, a cooperative of waste collectors that was born in the midst of environmental urgency and limited job opportunities in the city of Alta Gracia. The first days of my visit were aimed towards getting to know them; allowing them to meet me; building trust; and for me to feel, smell, taste and touch what it is to work in such an environment. Based on the decolonial and participatory approach of my project, I don't take pictures while working with them to avoid the 'aquarium effect'. That would only interrupt the natural motion of the work and create distance between me and them. Hence, I primarily rely on the pictures they captured for their personal social media use, as well as their amusement at witnessing my active involvement and participation in their activities. 
Some of the activities we did together are:
One day we had to break all the glass collected and load the truck with shovels and buckets: 5.5 tons of glass were moved from the ground to the truck. Another day we had to load another tuck. This time it was with all the PET bottles collected. They had already been compacted so that in one working day we could load the truck with 2500 kgs of this material.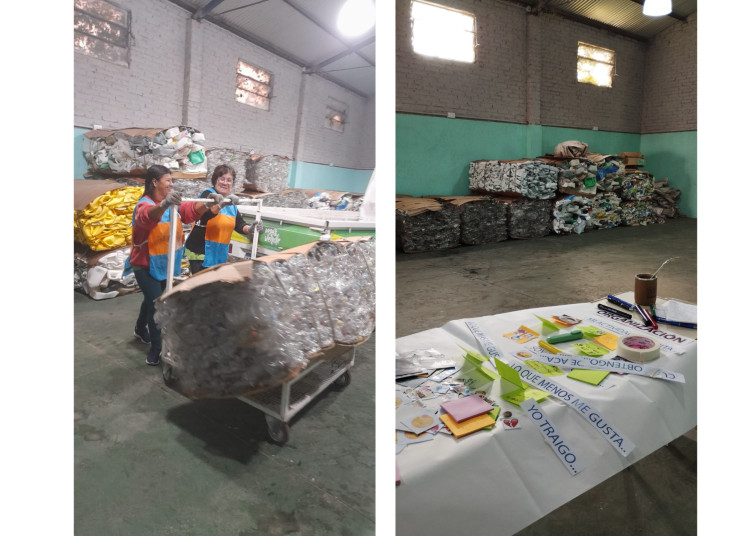 We also walked in different neighborhoods of the city collecting waste that we later sorted out to select the useful materials.
We also did a session implementing the tool I am developing as part of my project and this week, we will make an intervention in the main square of the city.  
All in all project-wise, I have been getting a lot of interesting and unexpected insights. On a personal level, I am experiencing significant personal growth and discovering new things.