The 'Groene Pint' (green pint) is a ranking of Dutch student associations in terms of sustainability. The Groene Pint is an initiative of Students4Sustainability together with the 'Landelijke Kamer van Verenigingen' and 'Studenten voor Morgen'.


Why The Groene Pint?
Student Associations play an important role in today's society. These associations are not only essential for transferring social skills, but they also serve as a role model for their members and other organizations. With over 10.000 new members every year, their social network within the Dutch university culture is massive. Students often affiliate themselves with their association, wanting to contribute to its well-being whenever possible. It is therefore evident that Dutch student associations play a crucial role in the self-development of its member and therefore the development of our society as a whole. 
One of the biggest challenges we face as a society is the transition to a sustainable world. Students, often acting as key members of society in the future, are an important target group. Their time at university definitely shapes them as human beings, which is why student associations play an important role in the transition to a more sustainable society. 
Students4Sustainabilty wants to use the association's position as role model to show its members to take lead in working on a sustainable future for everyone.  
This is where The Groene Pint comes into action. With The Groene Pint, we want to create more awareness for sustainability within the student associations. We want to do this by:
Providing insight for other association's when one takes a sustainable initiative. We want to show them what is possible with the limited resources of an association by taking another association as an example.
Publishing a ranking of all associations in terms of sustainability. This will work as a stimulant for associations to become more and more sustainable. 


Our Questionnaire
To help us rank the student associations, we drafted a questionnaire which entails multiple sustainable questions. These questions ask the association to provide evidence of sustainable initiatives they have taken over the last few months. Students4Sustainability drafted this questionnaire together with Studenten voor Morgen, Urgenda and professors at the Center for Environmental Studies Leiden. Last year's questionnaire can be found here.


The Result
Each year, all filled out questionnaires will be evaluated by The Groene Pint committee. They will rank the student associations, with the number one spot claiming our sustainable prize. We will also give out prizes for the most sustainable small association (< 600 members), most sustainable large association (> 600 members) and the best sustainable initiative. 
However, the most important result of The Groene Pint is that Dutch student associations show their members to take action in transitioning to a sustainable society.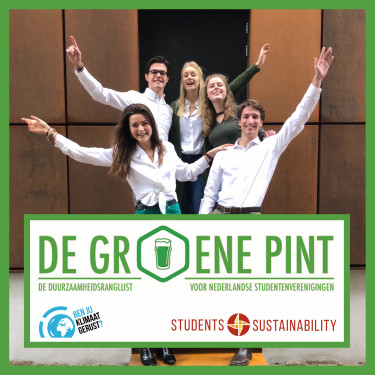 ​​​​​​​